Thursday, July 19th, 2018
There are only three weeks left in our Summer Break: Read, Learn, Explore program! Have you met your reading goals? There is still plenty of time to live your summer to the fullest. 
This week, we celebrate VolunTeens
Each summer, Charlotte Mecklenburg Library is excited to welcome community teens into our branches to participate in the Summer VolunTeen Program. The VolunTeen Program is designed to expose young people to a wealth of vital experiences and help teens gain service hourse during the summer. VolunTeens build workforce development and leadership skills while volunteering at the Library.
The Library would like to take a moment to tell our 2018 VolunTeens: "Thank you, and great job!"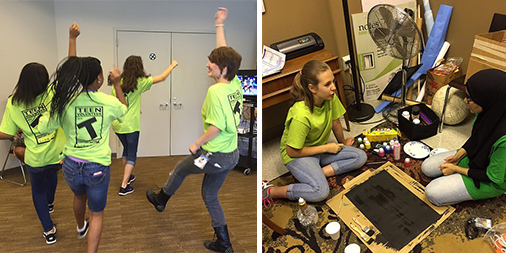 Are you interested in becoming a VolunTeen or Satellite Studio Intern at Charlotte Mecklenburg Library? Our VolunTeen initiative is now year-round, which means that teens ages 13-17 now have the opportunity to earn community service hours by becoming a VolunTeen up to three times a year! The Library is looking for responsible teens who enjoy working with the public, helping others and giving back to their community.
Applications are accepted three times per year. In January for the spring term, in April for the summer term and in September for the fall term. During application months, please apply on the Library's Volunteer page. Click "Become a Volunteer" and search Teen Volunteer 2018 opportunities. Applications will be accpeted throughout the month as designated or until a branch has reached capacity.
It's Carowinds Library Week!
Celebrate reading and literacy with discounted tickets to Carowinds through July 20. You can even count your visit to the Carolinas' favorite theme part as an activity for Summer Break! We always knew reading could be thrilling! Purchase your discounted tickets through the button below!
Purchase Carowinds Library Week Tickets
Upcoming Summer Break programs
Even though Summer Break can be completed entirely online, you may want to check out some of these exciting FREE programs coming up at your local library:
Managing Change, Envisioning Your Future
When: Friday, July 20 from 10-11 a.m.
Who: Adults
Where: Main Library's Dowd Foundation Learning Studio
Your vision for the future has a direct bearing on your actions in the present. Your present actions are often informed by your past. This workshop explores the stages of change and includes a Vision Board exercise to empower attendees with tools to explore and envision where they want to be and what it takes to get there.
*Registration required
ImagiCon
When: Saturday, July 21 from 10 a.m.-4 p.m.
Who: Children, Preteens, Teens, Families
Where: ImaginOn: The Joe & Joan Martin Center
Join us for the 3rd annual ImagiCon. ImagiCon is a library mini comic con that celebrates the culture surrounding comic books, graphic novels, manga, anime, fandoms and gaming. The program is for ages 0-18 and their families, and its aim is to provide a safe space for those interested to explore their interests, inspire creativity and learn about local industry careers and artistry opportunities.
Family Storytime at Huntersville Arts and Cultural Center
When: Monday, July 23 from 10-10:30 a.m.
Who: Families
Where: 109 South Old Statesville Road, Huntersville, NC  28078
Bring your whole family out to enjoy stories, songs, and movement activities that support early literacy skill development and help foster a love of books and reading in your child. Parents and caregivers are encouraged to participate. This program will be facilitated by North County Regional Library children's staff. The Huntersville Arts and Cultural Center is located at 109 S. Old Statesville Road, Huntersville. Call 704-416-6031 for more information.
Register for any of these great programs and more online.
Weekly Prizes
Each week during Summer Break, the Library will give away three 16GB Kindle Fires with a screen cover and protective case. Prizes will be drawn by age category with one Kindle Fire each for babies/children, teens and adults. Remember that you need to either enter reading time or an activity online each week and have a valid library card number or ONE Access account number in your Summer Break account in order to be eligible for prize drawings. Keep an eye on your email account, as this is how you will be notified if you win.
Congratulations to the following winners who have claimed their prize within the last week:
Adults: Artia J. (University City Regional)
Teens: Christian R. (Scaleybark), Tatyana M. (Hickory Grove)
Babies/Children: Noah M. (Mint Hill)
Comments? Questions?
Are you having problems with the Summer Break website or your account? Do you have questions about the program? Feel free to stop by your local library branch for assistance, give us a call at 704-416-0101, or email us at MLSummerBreakQuestions@cmlibrary.org.