Friday, December 28th, 2018
Jeanne Harper had always wanted to be a princess.
In the late 1940s and early 1950s, Harper would sit in her aunt and uncle's house on North Tryon Street and watch the city's Thanksgiving Parade march by, wishing to be a tumbler or a Carrousel Princess in the parade.
In 1953, Harper's dream came true.
That year, Jeanne Carole Sloan, as she was known then, was chosen as an 18-year-old to represent Gastonia as a Carrousel Princess in Charlotte's Thanksgiving Day Parade. At that time, the parade was the biggest of its kind in the South with about 600,000 people in attendance and 34 princesses representing various North and South Carolina towns. In addition to riding in the parade, the princesses got to partake in two days of festivities, including a mayor's luncheon, a special tour and reception at Queens College, a Coronation Ball of the Royal Society of the Knights of Carrousel (where a Carrousel King was announced), a dinner at Radio Center, a football game and a post-parade reception and dance called the "Queens Buffet," where the new queen was appointed. The girls were presented with a variety of cash prizes and gifts, and the queen was given a $100 evening dress of her choice. Celebrity guests that year included Miss North Carolina, Miss South Carolina and Miss America, as well as Hollywood cowboy Allan "Rocky" Lane and the Hegeman String Band from Philadelphia. The event was televised and broadcast on radio. 
Now 83, Jeanne has difficulty remembering all the wondrous things from her past, yet her reign as Carrousel Princess burns bright in her memory. The only issue is that 65 years have passed, and Jeanne no longer had the Charlotte Observer article from that November long ago.
Enter the staff at Charlotte Mecklenburg Library's Robinson-Spangler Carolina Room, which has access to historic North Carolina newspapers.
When Jeanne (below right) and her daughter Beverly (below left) visited the Carolina Room in hopes of locating a picture of the Carrousel princesses that year, staff in the Carolina Room referred to an online database for the Charlotte Observer to aid in the search. The staff found news articles as well as a photograph of all the princesses from that year, which included Jeanne. Upon seeing the article and image, both mother and daughter had tears in their eyes.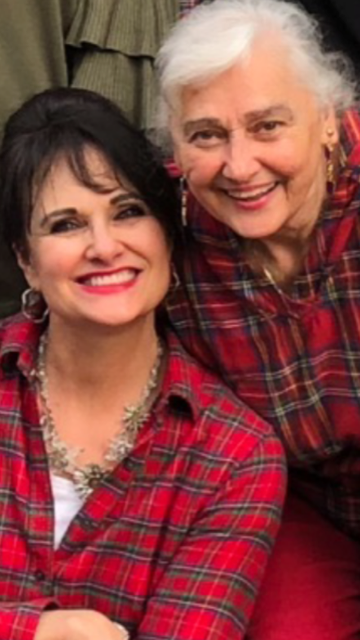 It meant so much for Jeanne to have the chance to revisit those memories, and her family was equally as thrilled to bring home a large print of the photo as well as digital files the Carolina Room staff emailed to Beverly.  After having found the photo they looked so hard for, mother and daughter are now set to return to the Carolina Room to look for a photo of Harper's aunt and uncle's house (that no longer remains) on North Tryon Street where the dream first began.
The Carolina Room has now made it even easier to conduct research with its new virtual hours on Mondays. As of Dec. 1, 2018, Library guests can now contact the Carolina Room with research requests via email, phone or Skype, so there's no need to even leave your house to travel back in time.