Wednesday, May 27th, 2020
Desplácese hacia abajo para ver la versión en español
We really missed you! Beginning June 1, 2020, Charlotte Mecklenburg Library begins phasing in services. The Library will be open during its regular summer hours: Monday-Thursday 9 a.m.- 8 p.m. and Friday & Saturday 9 a.m. – 5 p.m.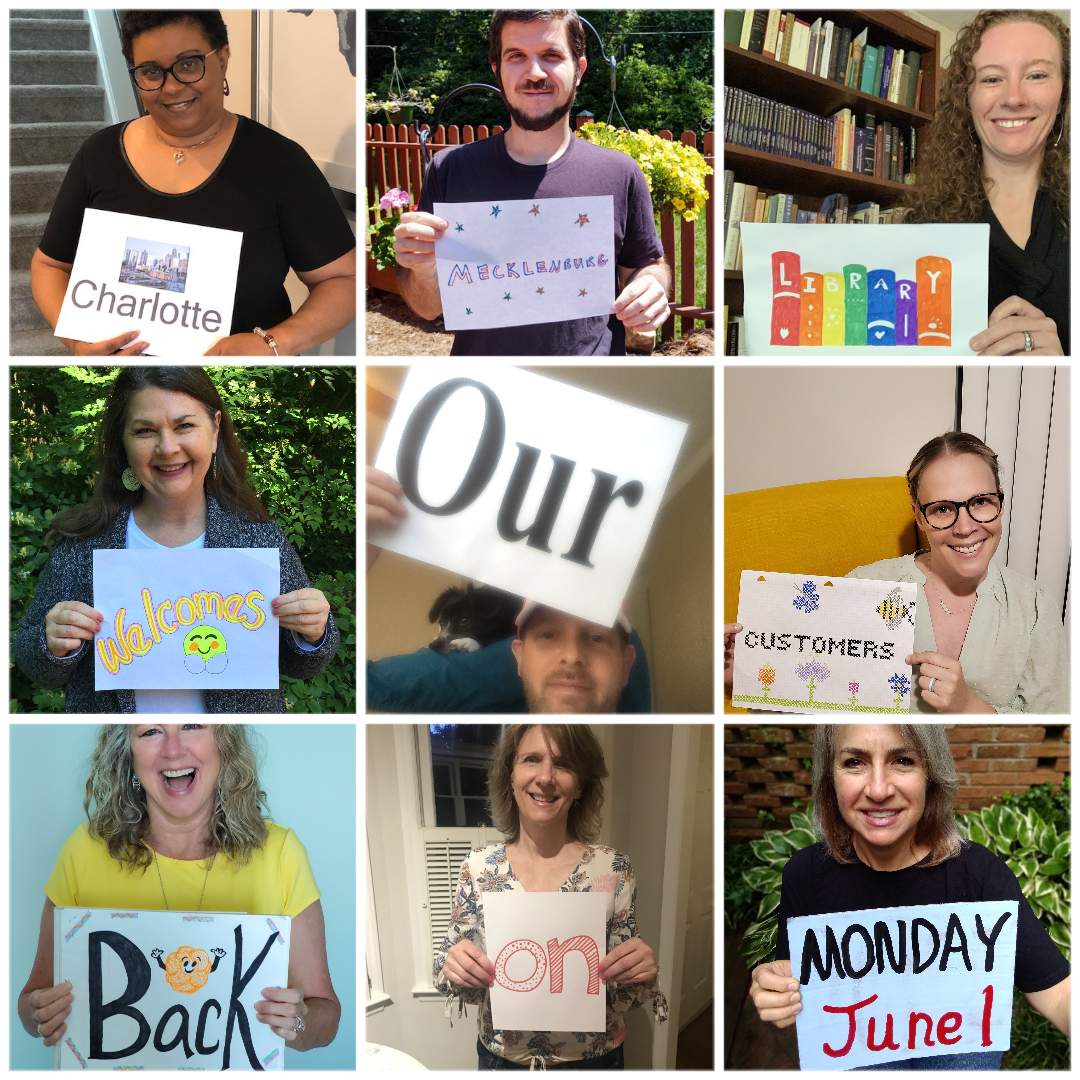 At each branch location you'll find limited services - holds pick-up and returns only. We allocated space inside the front entrance in each branch to serve one customer at a time, with a 6-foot distancing line outside. While customers are in line outside, staff will encourage social distancing and explain the available services.
During our initial opening phase, all Library staff will wear face masks or coverings, and, as of June 26, 2020 at 5 p.m., customers are required to wear masks or face coverings in accordance to North Carolina state guidelines. We're moving from virtual-only services to in-person services in a responsible way that focuses on safety. We'll continue to bring back in-person services over the next weeks and months as it is safe to do so, and as we build our capacity to provide service in a new way that meets the safety requirements as outlined by the State and the County. 
We are taking extensive precautions to ensure a safe space for our customers and staff. Stay tuned for more information on the continued re-opening of services.
Thank you for your patience. Click here for the complete Library Re-Opening Plan.
Here's what's available during our initial opening phase:
 All Library staff will wear face masks or coverings, and, as of June 26, 2020 at 5 p.m., customers are required to wear masks or face coverings in accordance to North Carolina state guidelines.
Only one customer allowed inside a branch at a time.
Minimized footprint in locations.
Streamlined self-checkout designed for quick in-and-out and safe, socially distanced interactions.
Staff interaction minimal and at a distance.
Materials and holds are available for pickup inside the branches.
All checkouts are self-checkouts. You can scan your card (physical or on the app) and the materials. You will not need to enter your pin.
Mobile printing is available for pickup from the branch. Learn more here.
All material/book drops remain closed. Please return materials and books to the designated receptacles located at your branch during the Library's open hours. There are signs that will direct you to the proper bin where returned materials will be received to begin the materials quarantine process.
Fines and fees are suspended during Phase 1.
Restrooms will not be open to the public.
Computer rooms – computers will not be available during Phase 1 of the Library re-opening.
Community room – all events and room reservations have been cancelled until further notice.
Outreach programming – continues online or virtual, as coordinated between our Outreach team and the organization.
Programming and events – all programs and events for children, teens, adult and the Job Help Center have moved to online or virtual formats.  Check here for the weekly schedule or visit the Calendar page on our website.
Materials Holds - here's what to keep in mind:
Books are quarantined for 96 hours before they are checked in*.
No need to 'clean' or disinfect your materials.
Materials that were on the holds shelf at the time of the Library's closure will expire during the week of June 15
Holds:

 If there are holds (physical or print items) you no longer need, you can update your account. Now is a great time to review the list of holds on your account and determine whether you still want or need those items. Click here for the How to manage your holds at Charlotte Mecklenburg Library blog post and find the information you need. This post explains the difference between canceling and suspending/pausing a hold and shows you how to take care of both from your computer, tablet or mobile device.
We're here for you online or on the phone.
You can reach our online chat during regular operating hours at cmlibrary.org and click on Ask a Librarian. Starting June 1, our telephone reference resumes during normal operating hours at 704.416.0101, or, you can contact your local branch location directly - visit the Branches page for more information.
Follow us on social media or visit the Library's blog for updated information: cmlibrary.org/blog
*Charlotte Mecklenburg Library is working to keep materials safe by using a quarantine method. All items are held for four days upon return before check-in. Customers will see items they have returned stay on their accounts for at least four days. Please be patient as we work to keep our collection as safe as possible. No overdue fines will be assessed during this time.
Items checked out from the Library have gone through quarantine before being placed on the Holds shelf for pickup. Please refrain from cleaning or disinfecting materials as this may damage items. Customers who wish to ensure safety of checked-out materials may do so by placing the materials in a safe space at home and letting them sit for at least 96 hours.  
Services are subject to change. 
La biblioteca comienza a incorporar sus servicios el 1 o de junio del 2020
¡Lo hemos extrañado! A partir del 1 o de junio del 2020, la Biblioteca de Charlotte Mecklenburg comienza a incorporar sus servicios en fases. La biblioteca estará abierta durante el horario regular de verano: de lunes a jueves de 9 a.m. a 8 p.m. y viernes y sábado de 9 a.m. a 5 p.m.
Se espera que la primera fase de la reapertura dure de tres a cuatro semanas antes de expandirnos a nuestra segunda fase. En cada sucursal encontrará servicios limitados: solo puede recoger artículos en reserva y devolver sus materiales. Asignamos espacio dentro de la entrada principal en cada sucursal para atender a un cliente a la vez, con una línea de distancia de 6 pies afuera. Mientras los clientes hacen cola afuera, el personal fomentará el distanciamiento social y explicará los servicios disponibles.
Durante nuestra fase inicial de apertura, todo el personal de la biblioteca usará mascarillas o cubrebocas, y alentamos (pero no exigimos) que los clientes hagan lo mismo. Estamos pasando de servicios virtuales a servicios en persona de una manera responsable que se centra en la seguridad. Continuaremos brindando servicios en persona durante las próximas semanas y meses, cuando sea seguro hacerlo, y a medida que desarrollamos nuestra capacidad para prestar servicios de una nueva manera que cumpla con los requisitos de seguridad establecidos por el Estado y el Condado.
Estamos tomando amplias precauciones para garantizar un espacio seguro para nuestros clientes y personal. Esté atento para obtener más información sobre la continua reapertura de servicios.
Gracias por su paciencia. HAGA CLIC AQUÍ PARA LEER EL PLAN COMPLETO DE LA REAPERTURA DE LA BIBLIOTECA.
Síganos en las redes sociales o visite el blog de la biblioteca para obtener información actualizada: cmlibrary.org/blog
Esto es lo que está disponible durante nuestra fase inicial de apertura:
El personal usará mascarillas faciales / cubrebocas y equipo de protección. Las mascarillas faciales son opcionales para los clientes, pero se recomiendan.
Solo se permite un cliente dentro de una sucursal a la vez.
Huella minimizada en nuestras sucursales.
Préstamo de materiales optimizado, diseñado para entradas rápidas y seguras e interacciones socialmente distanciadas.
Interacción del personal mínima y a distancia.
Los materiales en reserva y algunos otros materiales están disponibles para recoger dentro de nuestras sucursales.
Todos los préstamos son automáticos. Puede escanear su tarjeta (física o en la aplicación) y los materiales. No necesitará ingresar su PIN (número de identificación personal).
Todos los buzones para devolver los materiales seguirán cerrados. Devuelva los materiales a los receptáculos designados ubicados en cualquier sucursal durante el horario de atención de la biblioteca. Hay letreros que lo dirigirán al contenedor adecuado donde se recibirán los materiales devueltos para comenzar el proceso de cuarentena de materiales.
Las multas y tarifas se suspenderán durante la Fase 1.
Los baños no estarán abiertos al público.
Salas de computadoras – las computadoras no estarán disponibles durante la Fase 1 de la reapertura de la biblioteca.
Salón comunitario – todos los eventos y reservas de los salones se han cancelado hasta nuevo aviso.
Programación de extensión – continúa en línea o virtual, según lo coordinado entre nuestro equipo de extensión y la organización.
Programación y eventos – todos los programas y eventos para niños, adolescentes, adultos y el centro de ayuda laboral se han trasladado a formatos virtuales o en línea. Consulte aquí el horario semanal o visite el Calendario en nuestro sitio web.
Materiales en reserva - esto es lo que debe tener en cuenta:
• Los materiales se ponen en cuarentena durante 96 horas antes de procesarse *.
• No es necesario "limpiar" o desinfectar sus materiales.
• Los materiales que estaban en reserva en el momento del cierre de la biblioteca expirarán durante la semana del 15 de junio.
• Materiales en reserva:
Si ya no necesita algunos de los materiales que puso en reserva (elementos físicos o de impresión), puede actualizar su cuenta. Ahora es un buen momento para revisar la lista de reservas en su cuenta y determinar si aún desea o necesita esos artículos. Haga clic aquí para obtener información sobre cómo administrar sus reservas en el blog de la Biblioteca Charlotte Mecklenburg y encontrar la información que necesita. Esta publicación explica la diferencia entre cancelar y suspender / pausar los materiales en reserva y le muestra cómo hacer esto desde su computadora, tableta o dispositivo móvil.
Estamos aquí para servirle en línea o por teléfono.
Puede comunicarse con nosotros a través de nuestro chat en línea durante el horario de atención habitual en cmlibrary.org haciendo clic en el botón titulado "Ask a Librarian". A partir del 1 o de junio, nuestra referencia telefónica se reanudará durante el horario normal de atención. Puede llamar al 704.416.0101, o comunicarse directamente con su sucursal local. Visite la página de información sobre nuestras sucursales para obtener más información.
 * La Biblioteca de Charlotte Mecklenburg está trabajando para mantener los materiales seguros mediante el uso de un método de cuarentena. Todos los artículos se guardan durante cuatro días a su regreso antes de procesarlos. Los clientes verán que los artículos que han devuelto en sus cuentas permanecen ahí durante por lo menos cuatro días. Tenga paciencia mientras trabajamos para mantener nuestra colección lo más segura posible. No se impondrán multas por materiales vencidos durante este tiempo.
Los artículos extraídos de la biblioteca han pasado por la cuarentena antes de ser colocados en el estante de reservas para ser recogidos. Por favor absténgase de limpiar o desinfectar los materiales, ya que esto puede dañar los artículos. Los clientes que deseen garantizar la seguridad de los materiales retirados pueden hacerlo colocando los materiales en un lugar seguro en casa y dejándolos reposar durante al menos 96 horas.
Los servicios están sujetos a cambios.