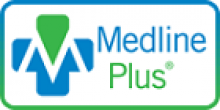 MedlinePlus brings you information about diseases, conditions, and wellness issues in language you can understand. MedlinePlus offers reliable, up-to-date health information, anytime, anywhere, for free.
You can use MedlinePlus to learn about the latest treatments, look up information on a drug or supplement, find out the meanings of words, or view medical videos or illustrations. You can also get links to the latest medical research on your topic or find out about clinical trials on a disease or condition.
Health professionals and consumers alike can depend on it for information that is authoritative and up-to-date.  There are directories, a medical encyclopedia, health information in Spanish, extensive information on prescription and nonprescription drugs, and links to thousands of clinical trials. MedlinePlus is updated daily.