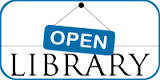 Desplácese hacia abajo para ver la versión en español
Open Library is a free database of millions of digital books. You can view online or download to PDF, plain text, DAISY, ePub, DjVu, MOBi, and "Send to Kindle".
La biblioteca abierta es una base de datos gratuita que contiene millones de libros digitales. Puede leerlos en línea o descargarlos a PDF, texto plano, DAISY, ePub, DjVu, MOBi y "Enviar a Kindle".