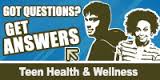 Desplácese hacia abajo para ver la versión en español
Provides middle school and high school students with nonjudgmental, straightforward advice and self-help support. Topics include diseases, drugs, alcohol, nutrition, mental health, suicide, bullying, green living, financial literacy, and more.
Brinda a los estudiantes de secundaria y preparatoria asesoramiento directo y sin prejuicios, y apoyo de autoayuda. Los temas incluyen enfermedades, drogas, alcohol, nutrición, salud mental, suicidio, acoso escolar, vida ecológica, educación financiera y más.