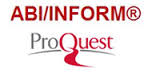 Desplácese hacia abajo para ver la versión en español
ABI/INFORM Complete contains a host of resources for all your business research needs. Journal articles, trade publications, market research reports, dissertations, and working papers are all available.
ABI / INFORM Complete contiene una gran cantidad de recursos para todas sus necesidades de investigación de negocios. Los artículos de revistas, publicaciones comerciales, informes de investigación de mercado, disertaciones y documentos de trabajo están a su alcance.