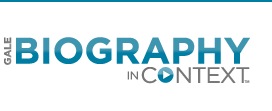 Desplácese hacia abajo para ver la versión en español
A biography database which merges Gale's authoritative reference content, including Lives & Perspectives, with periodicals and multimedia. Includes more than 600,000 biographical entries covering international figures from all time periods and areas of study.
Una base de datos de biografías que fusiona el contenido de referencia autorizado de Gale, que incluye Lives & Perspectives, con publicaciones periódicas y multimedia. Incluye más de 600,000 entradas biográficas que cubren figuras internacionales de todos los períodos de tiempo y áreas de estudio.