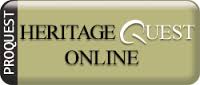 Desplácese hacia abajo para ver la versión en español
HeritageQuest Online is a library resource for census data, family records, and local histories. This collection assembles U.S. federal census, family genealogies, local histories, tax lists, city directories, land and probate records, birth, marriage and death records, genealogical and local history serials, and more. HeritageQuest Online includes special collections including the Periodical Source Index (PERSI), Freedman's Bank Records, Revolutionary War Pension and Bounty Land Warrant Index.
HeritageQuest Online es un recurso que proporciona datos censales, registros familiares e historias locales. Esta colección reúne censos federales de EE. UU., genealogías familiares, historias locales, listas de impuestos, directorios de ciudades, registros de tierras y sucesiones, registros de nacimientos, matrimonios y defunciones, publicaciones periódicas de historia genealógica y local, y más. HeritageQuest Online incluye colecciones especiales que incluyen el Índice de la fuente periódica (PERSI por sus siglas en inglés), los registros bancarios de Freedman, la pensión de la guerra revolucionaria y el índice de garantía de tierras Bounty.