Wednesday, July 3rd, 2019
Did you know that babies, toddlers and preschoolers can join in on Summer Break too? Reading time includes time spent being read to and time spent reading to someone else. This means that parents can log reading time for everyone whether they read to or with their child! 
This summer discover the learning moments all around us. The library is here to help you get your child ready to read with simple activities every day.  
When you register your child ages 0-3 years for Summer Break, we'll give you a colorful pamphlet with ideas for learning activities and lots of great literacy tips. Some of our ideas include:  
Draw a picture and make up a story about it. 
Read a book together. Create voices for the characters and use your body to tell the story.  

Take your child to storytime. 

Talk about the beginning, middle and end of the story while reading a book.  
Learn About the Benefits of Active Reading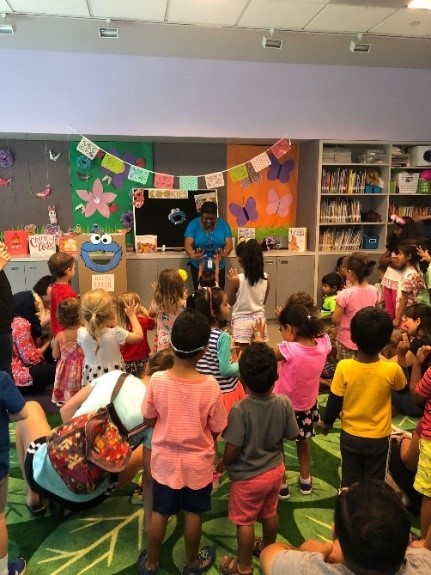 Active Reading is a great way to engage with your child while you read together. The ABCs of Active Reading are:  
A: Ask Questions. Open ended questions get kids talking. "What do you think will happen next in the story?"

 

B: Build Vocabulary. Demonstrating new words builds vocabulary. Don't just read the

word "

whisper" –

actually whisper.  

C: Connect to Child's World. Relating the story to what kids know helps them learn more about the world. 

 
The Summer Break program is wonderful for all ages! We have activities, book suggestions and programs for babies, children, teens and adults.  Celebrate Library Week at Carowinds! 
In addition to offering free Carowinds tickets to eligible Summer Break participants, Carowinds also offers Library customers the opportunity to purchase discounted tickets and use them during Carowinds Library Week. This year Carowinds Library Week runs July 22-28, and the discounted ticket price is $39 per person, which includes parking. Purchase discounted tickets to be used during Library Week and help us celebrate Summer Break at Carowinds! 
Click here to access the portal 
These are case sensitive.  
Additional discounts may also be available through this portal throughout the summer. 
REMINDER: all libraries are closed for July 4. 
Are you having problems with the Summer Break website or your account? Do you have questions about the program? Feel free to stop by your local library for assistance, call 704-416-0101 or email MLSummerBreakQuestions@cmlibrary.org.