Tuesday, November 26th, 2019
In the aftermath of World War I, a number of volunteers from American agencies went overseas to help with the return to peacetime and to assist the military with other projects. Annie Lee Hoffman was one of these volunteers, serving on behalf of the YMCA.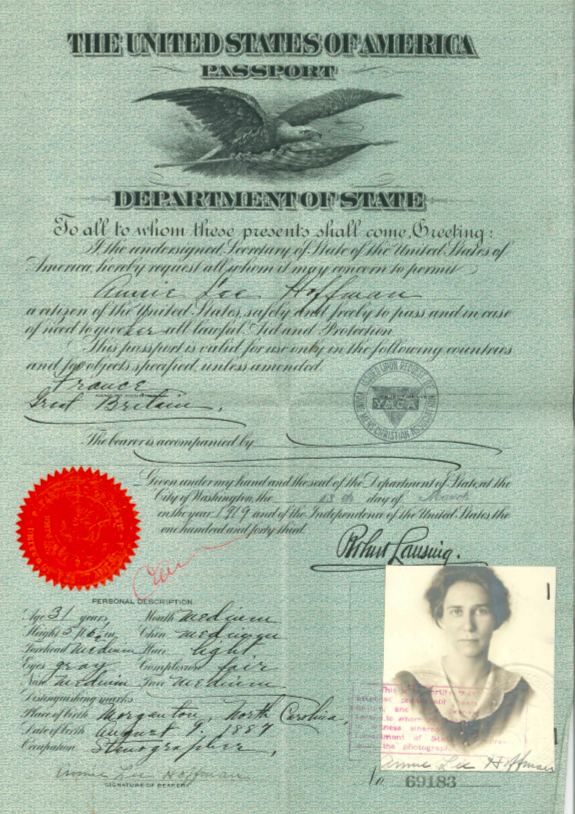 The early life of Annie Hoffman
Annie was born on August 9, 1887 in Morganton, North Carolina to Julius and Martha Hoffman. She attended Oxford Seminary in Oxford, NC where she studied office administration.  Later, she moved to Rocky Mount, NC where she was employed as a private stenographer. At the time Annie volunteered overseas, she was the Nash County Court Stenographer. 
Annie joins the YMCA
The mission of the YMCA is to operate as a Christian service to build a healthy spirit, mind, and body for all.  It was established in London, England in June 1844 in response to "unhealthy social conditions" resulting from the Industrial Revolution in large cities. In 1914, the YMCA turned its attention to providing support and wholesome pursuits for troops fighting for Britain and her empire. Examples of services provided include supplying men with writing paper, film showings, libraries, religious services, concert parties, folk dancing and educational lectures.     
The YMCA opened its doors for women in July 1917.  Prior to this, Americans did not believe that women could hold up to the physical and mental strain of war work. Women certainly proved these ideas wrong by serving as nurses, surgeons, chaplains, chaplain's assistants, distributors of medical supplies and distributors of food and clothing. Some women also served on the battlefield with horse drawn canteens that had built and staffed a kitchen, hotel and a hospital. Women volunteers also provided male soldiers with free meals and taught men to read and write.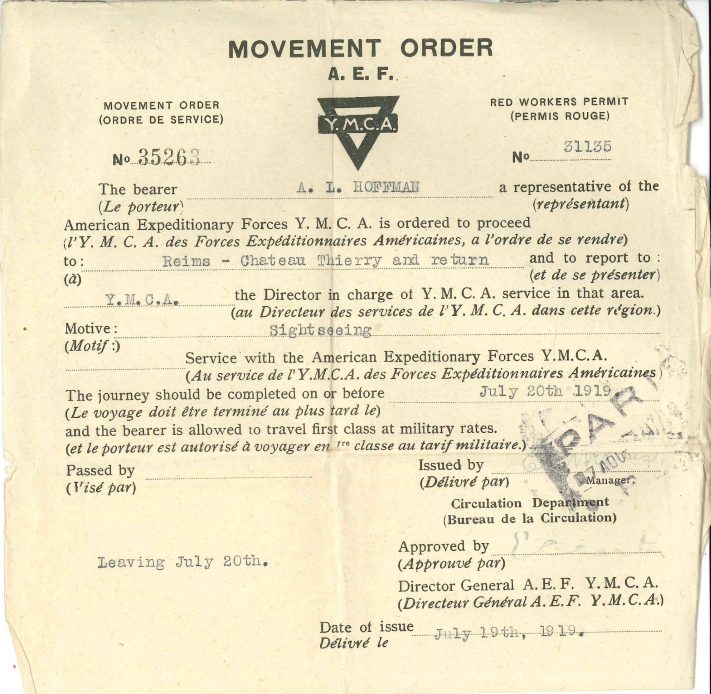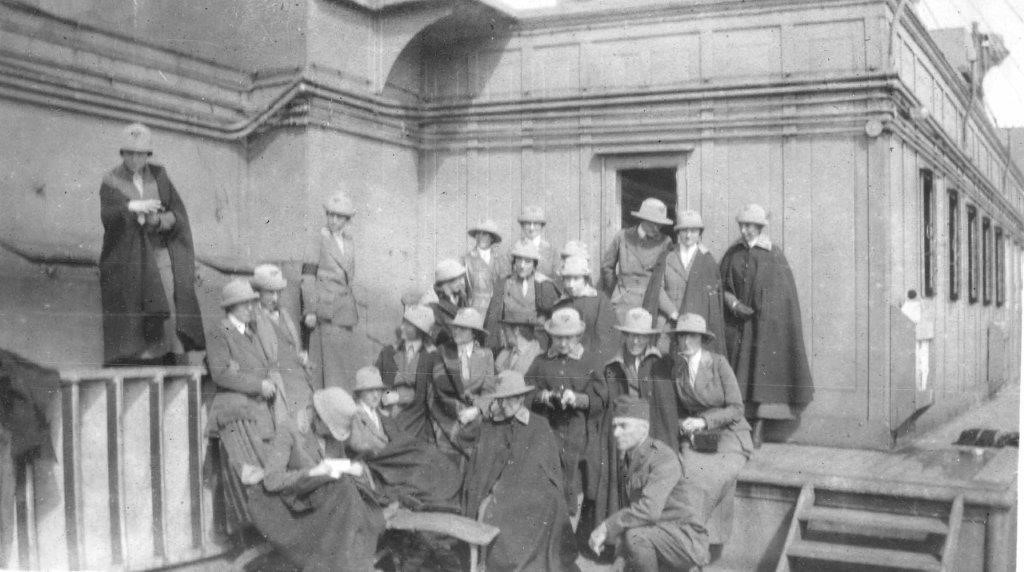 (Left): This movement order allowed Annie to serve with the French YMCA. At this time, she was not doing front line work and was advised to sightsee. (Right): Annie and other women serving as YMCA volunteers.
By 1918, over 300 YMCA centers existed in France. There were approximately 1,700 volunteers in French YMCAs, mostly women. Each center offered a canteen, chapel, concert hall, library, game room and classroom.
 
Annie leaves the YMCA
Throughout her travels, Annie kept a detailed account of foreign lands laying in ruins during the war. Her papers, held in the Robinson-Spangler Carolina Room, contain extensive letters that she wrote to her mother and sisters in the form of a diary.
After she was honorably discharged from her volunteer service in 1919, she returned to Rocky Mount. She later died at age of 97 in her hometown on October 9,1984.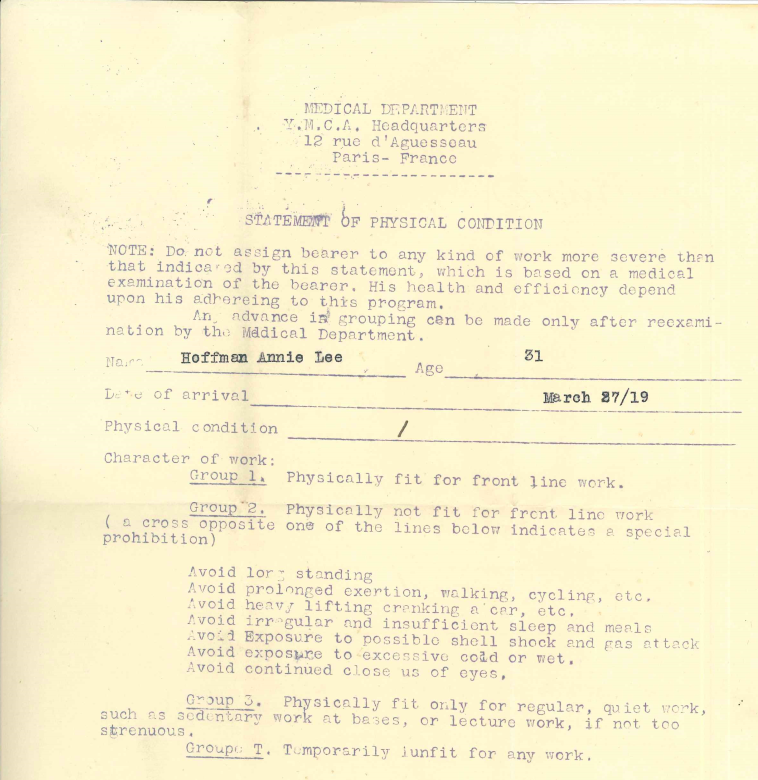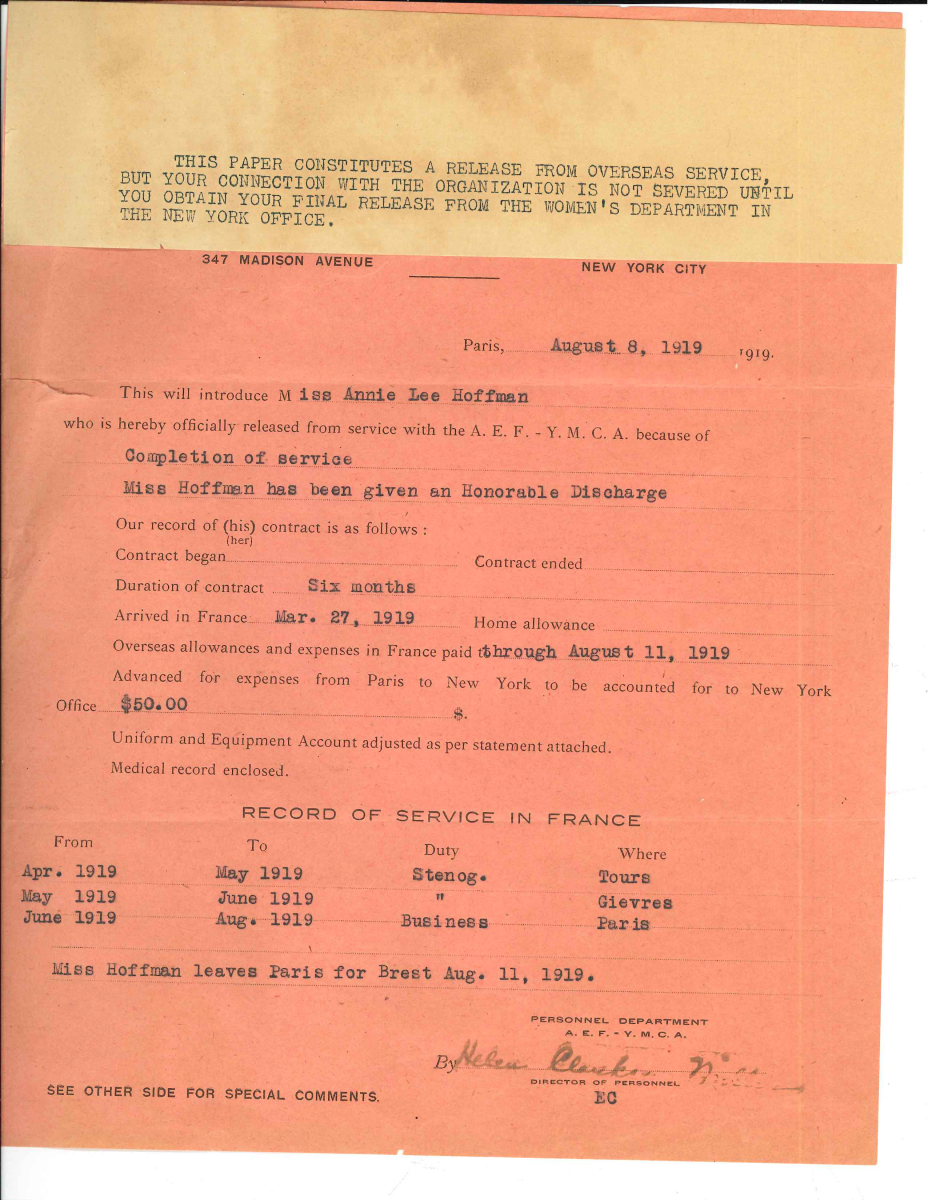 (Left): Annie's discharge papers, which allowed her to serve on the front line. All volunteers had to complete a medical and physical examination in order to determine where they can serve. (Right): Honorable discharge papers with record of service.
Want to learn more about Annie Lee Hoffman's service overseas during World War I? Visit the Carolina Room on the third floor of Main Library!
--
This blog was written by Julia Zwetolitz, marketing and communications intern, of Charlotte Mecklenburg Library
References:
Annie Lee Hoffman Papers, 1909-1926. Robinson-Spangler Carolina Room, Charlotte Mecklenburg Library.
"Our History- A Brief History of the YMCA Movement." YMCA. Accessed November 2019. http://www.mfldymca.org/about_us/history_national.php.