Wednesday, October 2nd, 2019
Formed in 1932, the Charlotte Symphony Orchestra is today the largest and most active professional performing arts organization in the Carolinas. Currently known as The Charlotte Symphony, this organization includes small ensembles of musicians such as the Flute Club and two Youth Orchestras, among others. These small ensembles perform outreach services to local hospitals, and organizations.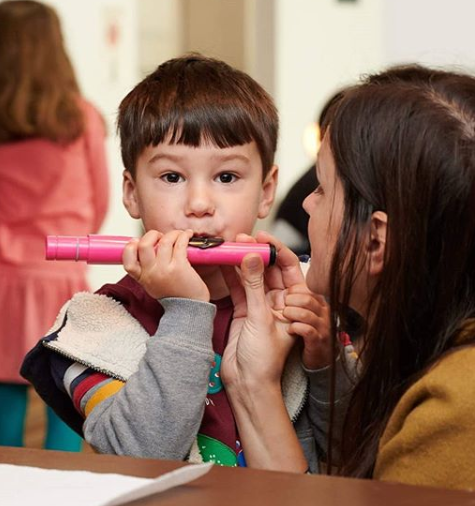 Courtesy of Charlotte Symphony Orchestra Instagram (@cltsymphony)
Community service is very important to the Charlotte Symphony Orchestra. The Carolina Room's manuscript collection describes, through newspaper articles, concert programs and other items, how the organization has been interwoven with the community since its beginning. The Charlotte Symphony Orchestra used the auditoriums of Alexander Graham Junior High School, Myers Park High School, Mineral Springs High School and Piedmont Junior High School as concert venues before Ovens Auditorium was built.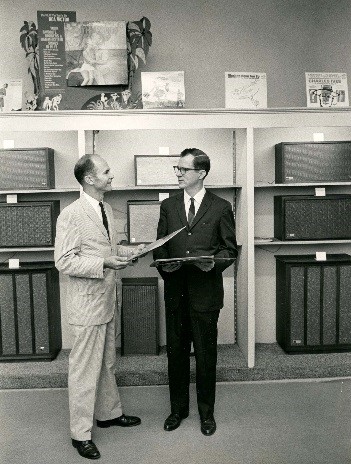 Sydnor Thompson, president of Charlotte Symphony Board of Directors,
being shown recordings by Joe Little at Joe Little Hi Fi and Records (126 W. 5th St.), 1959.
Since the Orchestra's conception, the organization and its affiliates have performed at community locales such as Queens College's Dana Auditorium, the United States Naval Hospital, Davidson College and the University of North Carolina at Charlotte. While the full organization may not have participated, individual Orchestra conductors and Orchestral players have been participants in the Brevard Music Festival Orchestra and the Transylvania Music Camp. They have also performed during local church services including those held at Covenant Presbyterian Church, Myers Park Presbyterian Church and Providence United Methodist Church.
Courtesy of Charlotte Symphony Orchestra Instagram (@cltsymphony)
Beyond performing in various locations throughout the region, the Charlotte Symphony Orchestra--as an organization and some individual personnel--participated in collaborative efforts that allowed them to spread music beyond a season's regularly scheduled concerts. The Charlotte Symphony Orchestra collaborated with such artists as Ella Fitzgerald, the Atlanta Ballet Company and the Carolina Ballet Company. The Orchestra also reached out to other musicians through smaller ensembles such as the Charlotte Symphony Youth Orchestra, the Charlotte Flute Club, the Mint Museum Ensemble and the Charlotte Chamber Music Players.

Joseph P. Little Obituary Photo, 2012.
Joseph Pritchard Little, one of the early members of the Orchestra and played the flute for over fifty years (1934-1989). He very kindly donated his collection of programs, articles, photographs and audio/visual materials to the Carolina Room in 2007.
Please visit us in the Carolina Room to enjoy the collection!
This blog was written by Sydney Carroll of the Charlotte Mecklenburg Library's Robinson-Spangler Carolina Room.