Tuesday, August 20th, 2019
What do you want to be when you grow up?
On Friday, July 26, deserving middle and high school students in the Charlotte community had the opportunity to consider that question on a larger scale. Students who participated in the "Bigger than High School" event hosted at the University of North Carolina at Charlotte's (UNCC) Cato College of Education were able to explore and discuss various career options with professionals in rotating five-minute increments. Charlotte Mecklenburg Library Outreach Coordinator Jasmine McNeil partnered with Jimmeka Anderson with the Urban Education Collaborative, at UNCC to bring the event to life, hoping to spark excitement and curiosity in local students about their futures.
Program participants were challenged to think about life beyond high school and were introduced to African American business professionals who represented a variety of careers from leadership in the banking industry and educational leadership to social work, marketing, communications and even the possibility of s
erving the community as a librarian, through speed mentoring. The youth were also able to ask questions to panels of African American PhD students, UNCC undergrad students, participated in a tour of the campus and so much more.
Parents and guardians of program participants attended parent sessions where they learned about financial aid, Library resources, College 101 and spoke with a high school guidance counselor. One parent noted that the Library resources session was her favorite of the day because she wasn't aware of all the tools the library had to offer. Other speakers, parents and guardians state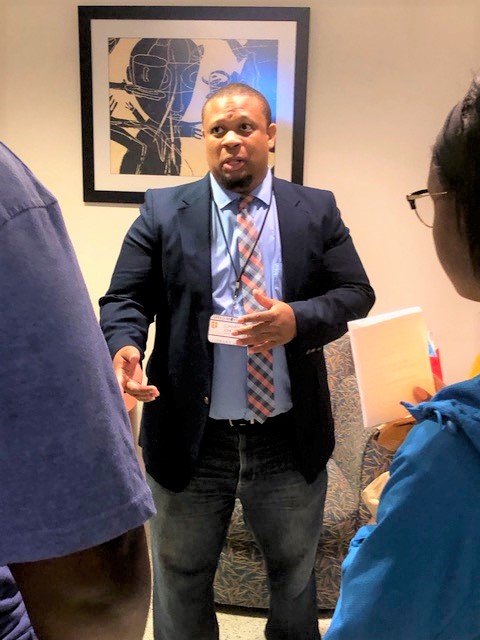 d this event was helpful and something they wish they could've experienced when they were younger.
As a keepsake, students received take-home booklets with a yearbook theme.
The Charlotte Mecklenburg Library Outreach Department would like to give a special thanks to the Library staff that participated and demonstrated several of the Library's FOREWARD culture principles such as WE OVER ME, LOVE WHAT YOU DO, THINK AND ACT FORWARD and BE A HERO. Thank you to: Asha Ellison, De'Trice Fox, Shannon Page, LaShai Thompson and Holly Summers for your amazing contributions to the Bigger than High School Event.
--
This blog was written by Jasmine McNeil, outreach coordinator at Charlotte Mecklenburg Library.