Tuesday, December 1st, 2020
Changes are coming to Charlotte Mecklenburg Library online resources!! Many of the resources on the Library's Resources page are provided by NC LIVE, North Carolina's statewide cooperative. Every 3 years NC LIVE evaluates its resources by analyzing usage trends, reviewing feedback from libraries, evaluating accessibility and by looking at possible alternatives. Due to budgetary constraints, NC LIVE is not able to keep all resources so decisions must be made on which resources to renew, add or remove for the coming 3-year cycle.
Beginning January 1, 2021 resources being added to the Resources page include:
LearningExpress Library features online tutorials, practice tests, and e-books to help patrons of all ages. It offers job search and workplace skills improvement, skill building in reading, writing, math, and basic science, career certification and licensure exam prep, college and grad school entrance test prep, GED® test prep, and more.
Films on Demand: Just for Kids is a streaming movie service filled with educational videos children will want to watch – Sesame Street, The Electric Company, The Berenstain Bears, Franklin, and more.  Games, songs, and other interactives are included to entertain, educate, and inspire young kids.
Biography in Context is a comprehensive database of more than 600,000 biographical entries of people throughout history, from around the world, and across all disciplines and subject areas.
Transparent Language provides a fun, effective, and engaging experience for learners of all levels looking to build their listening, speaking, reading, and writing skills in a foreign language. Combining extensive courses and supplemental resources for over 100 languages, including English, Transparent Language Online is the most complete language-learning system.
Beginning January 1, 2021 resources being removed from the Resources page include:
CQ Magazine
Auto Repair – see Chilton Library for automotive repair information
Biography Reference Center
Science in Context
Teaching and Education Reference Center (TERC)
Mango Languages
For our customers currently using Mango Languages and Teaching and Education Reference Center (TERC) resources, please be aware that any courses you are pursing for certification must be completed by December 31, 2020. Beginning January 1, 2021 you will no longer be able to access these resources.
Export Learning activity from Mango:
Log into your Mango account
Expand the menu by your username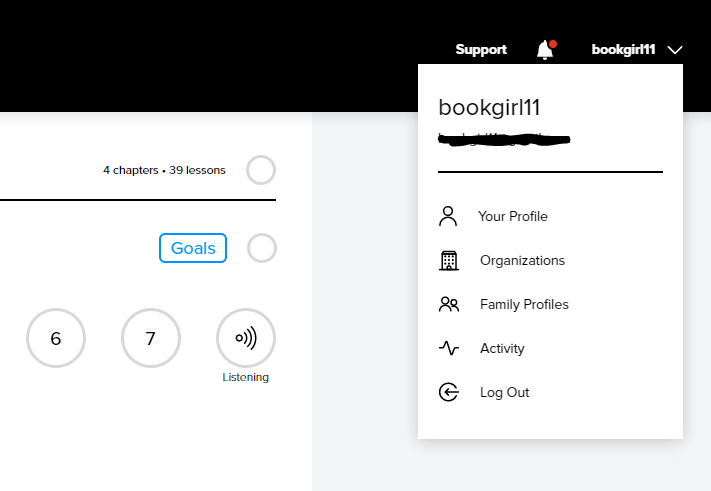 Click Activity
This menu will allow you to view and download your recent learning activity.  Change the dates to find all your learning activity.  Click "Download CSV file" to download the report.
Export Learning Activity from TERC
Log into your TERC account and navigate to your Class Progress.  From here you can see your grades, course access, and login history.  Please print anything you would like to save.
As always, you just need your library card or ONE Access number to access all of Charlotte Mecklenburg Library's resources.  Don't have a library card?  Sign up here!
If you need more support or have questions, Charlotte Mecklenburg Library staff are available by email, chat, and phone.