Tuesday, August 25th, 2020
Have you wanted to read up on inclement weather patterns, pandemics throughout history or indulge in a good mystery? Maybe you're in the mood for romance, need clean, teen reads or want to educate yourself on issues facing the LGBTQIA+ community. Whatever your interests are, the Charlotte Mecklenburg Library has a book list for you.
Staff work throughout the year to compile and update lists in the Library's online catalog system so customers don't have to look hard for what they need. Book list topics range from anything to almost everything. To view the Library's book lists, complete the following steps:
Sign into your Library Bibliocommons account or search as a guest
Select LIST from the SEARCH BY drop-down menu. Make sure you are searching the CATALOG.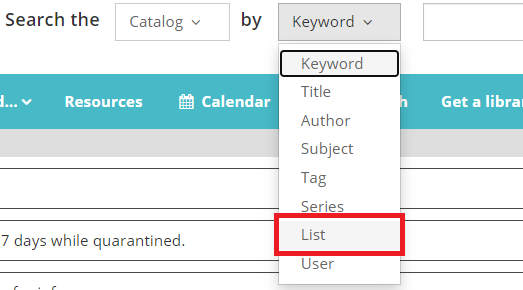 ​
In the search bar,  complete a search using "CMLibrary" to pull results specific to Charlotte Mecklenburg Library.  You can also search using "CMLibrary suggests" or by using a hashtag (#) search such as #cmlibrary. You will also want to include a keyword in your search for the topic you're interested in (for this    example, we're searching for books about dogs). Click the magnifying glass symbol to the right of the box to complete the search and return results
If the Library's Bibliocommons lists leave you longing for more, you can opt for something a bit more personal: a curated list of reading recommendations made just for you!
That's right. In addition to book lists, you can submit a request for a Personal Reading List by filling out this form and our online Readers' Advisory team will put together a list of reading suggestions that will be sent directly to your email account. You can access this page by completing the following steps:
On the SERVICES page, click FIND YOUR NEXT READ under "Additional services include:"

 
Fill out and submit the form on the FIND YOUR NEXT READ page. Please ensure the email address you provide for this service is accurate.*

*Note: Your Personal Reading List will be sent to the email you provide within 3-5 business days. You can use your list to check out books from your local branch or download an e-book or e-audiobook from cmlibrary.org.
Finding your next favorite read at Charlotte Mecklenburg Library is easy with the options listed above. Need a Library card to start borrowing items? Get a Library card here.
Happy reading!
This blog was updated on December 1, 2020.