Tuesday, September 3rd, 2019
Did you know? Of the top 100 grossing films of 2018, women represented only:
4% of directors
15% of writers
3% of cinematographers
18% of producers
18% of executive producers
14% of editors
Charlotte Mecklenburg Library recently formed a partnership with Girls Rock Charlotte (GRC), a non-profit organization that has been working to change the statistics of women's roles in film. GRC's mission is to amplify the confidence of girls and gender diverse youth through the power of music and film. Last year was their first summer to host a film camp, giving youth ages 11-18 the opportunity to learn a new career and become the voice of the next generation in filmmaking. This year, the camp was hosted by Charlotte Mecklenburg Library.
The partnership began at Independence Regional Library branch with a series of Screen Writing 101 workshops.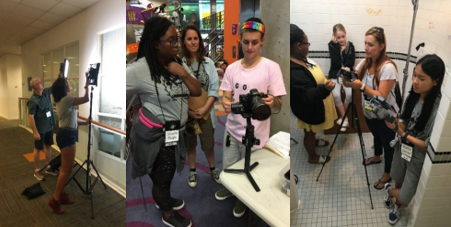 The scripts for the films were chosen by camp leadership such as GRC Executive Director, Kelly Finley,  and a Women's and Gender Studies professor at UNCC. Finley met with Charlotte Mecklenburg Library's Chief Innovation Officer, Seth Ervin, to discuss the camps innovative approach to creating job opportunities for young people and making a positive change in the film industry. Ervin has also brought other film making opportunities to the library for teens and adults, including a partnership with the Unconventional Film School.
Finley's vision for the camp is to create a curriculum that can be shared to other Girls Rock organizations across the country. Finley said about the library partnership, "It was inspiring to see our young filmmakers not only discover the art and skills of filmmaking but also to discover how the library has the resources and staff to help them pursue their projects and aspirations."
During the week of July 28 – August 3, girls and female filmmaker volunteers gathered in meeting spaces at Main Library and ImaginOn to learn the roles of director, camera, editor, art director, lighting, sound and more. Staffing the camp with all women filmmakers was especially difficult. Jolly Dale, a producer for "The Walking Dead" and the GRC Film Camp Director said, "Finding female film professionals is difficult in general because there just aren't that many of them. Finding female film professionals to also give up their time and employment for a day or more to volunteer with GRC Film Camp is even more challenging - because those few are in high demand in the industry. With Film Camp, we're trying to grow the percentage of women working in media, and in the process, effect change in how women and women's issues are represented on screen."
In addition to the filmmakers who helped lead the camp, campers had the opportunity during lunch each day to meet local women in media such as news anchors Michelle Boudin, Ruby Durhan and Lisha Scott from WCBC, and Christine Moore, a director who has worked on projects such as The Wire, CSI, and Treme.
In just the span of one short week, thirty-two campers filmed, edited and premiered four three-minute short films. The screening took place at Spirit Square just six short days after the camp began. To learn more about Girls Rock Charlotte, please visit their website, or to learn more about filmmaking programs happening at Charlotte Mecklenburg Library, please visit our online calendar. Below are the completed films:
 
Ria
"RIA" was written by Alice Loder, who attended the library Screen Writing 101 Workshop at the library last May. A sophisticated script about a young woman who has chosen to go "off the grid" by getting rid of all her worldly possessions. This script utilized spaces through out Main Library, including The Mecklenburg Room inside the Carolina Room.
Shush
Written by Jillian Ruvalcaba, "Shush," was filmed entirely in The Loft at ImaginOn. The script highlighted themes of bullying and being open to new people. 
The Burning Haunt
"The Burning Haunt," written by Holly Walker, was the most difficult film to shoot in terms of location as it utilized locations at Main Library, The Loft and the Children's Theater in ImaginOn. The main character in this script encounters a ghost who died in a fire after being locked in a bathroom at school.
The Perfect Girl
The final film titled "The Perfect Girl," written by Jada Bennett, was filmed entirely at Main Library. This crew was made up entirely of campers who attended last year's film camp. The campers on this crew all aspire to attend film school and have a career in film. The script is about a young girl who struggles with body dysmorphia.  
Resources:
https://womenandhollywood.com/
https://www.girlsrockclt.org/
https://vimeo.com/channels/1291690
This blog was written by Lonna Vines. Vines is a Children's Librarian at Charlotte Mecklenburg Library and a member of leadership for Girls Rock Charlotte. She performed as the Assistant Camp Director, Cast Coordinator and Library Liason during the week of camp.