For many Americans, July 4 is synonymous with Independence Day. However, in one North Carolina county, Independence Day comes early, on May 20 to be exact.
Beginning in 1825, the residents of Mecklenburg County celebrated the writing and signing of the Mecklenburg Declaration which supposedly took place on May 20, 1775, a full year before the more famous Declaration of Independence. Over the next century, May 20 was the time when residents set off countless fireworks, dined at celebratory dinners at churches, civic organizations and fraternities, held picnics, conducted parades as well as patriotic pageants and hosted dignitaries, including four United States Presidents.
By the time July 4 came around, there was very little enthusiasm to organize and prepare for another massive celebration. Except for the occasional private affairs and individual public drunkenness, most Charlotteans celebrated the day either quietly in their homes or traveled to nearby towns where the activities were in great abundance. This continued for almost 125 years.
During World War II, local officials began to encourage citizens to organize events to celebrate the fourth of July. In 1949, under the leadership of the local chapter of Disabled American Veterans, Charlotte held its first American Independence Day parade. 5,000 people filled the street to watch the Plato Price High School Marching Band and cheered when they played "Stars and Stripes Forever." Also, in attendance were members of the 504th Airborne, veterans from the Spanish American War, members of a local cavalry club to honor World War I Veterans, and several trained goats. Twelve planes from the Air National Guard flew high over the city in special formation. Former WWI nurse and "DAV Sweetheart, Minnie Gwaltney was also honored for her continued care of veterans. Thus, began a new tradition in Charlotte.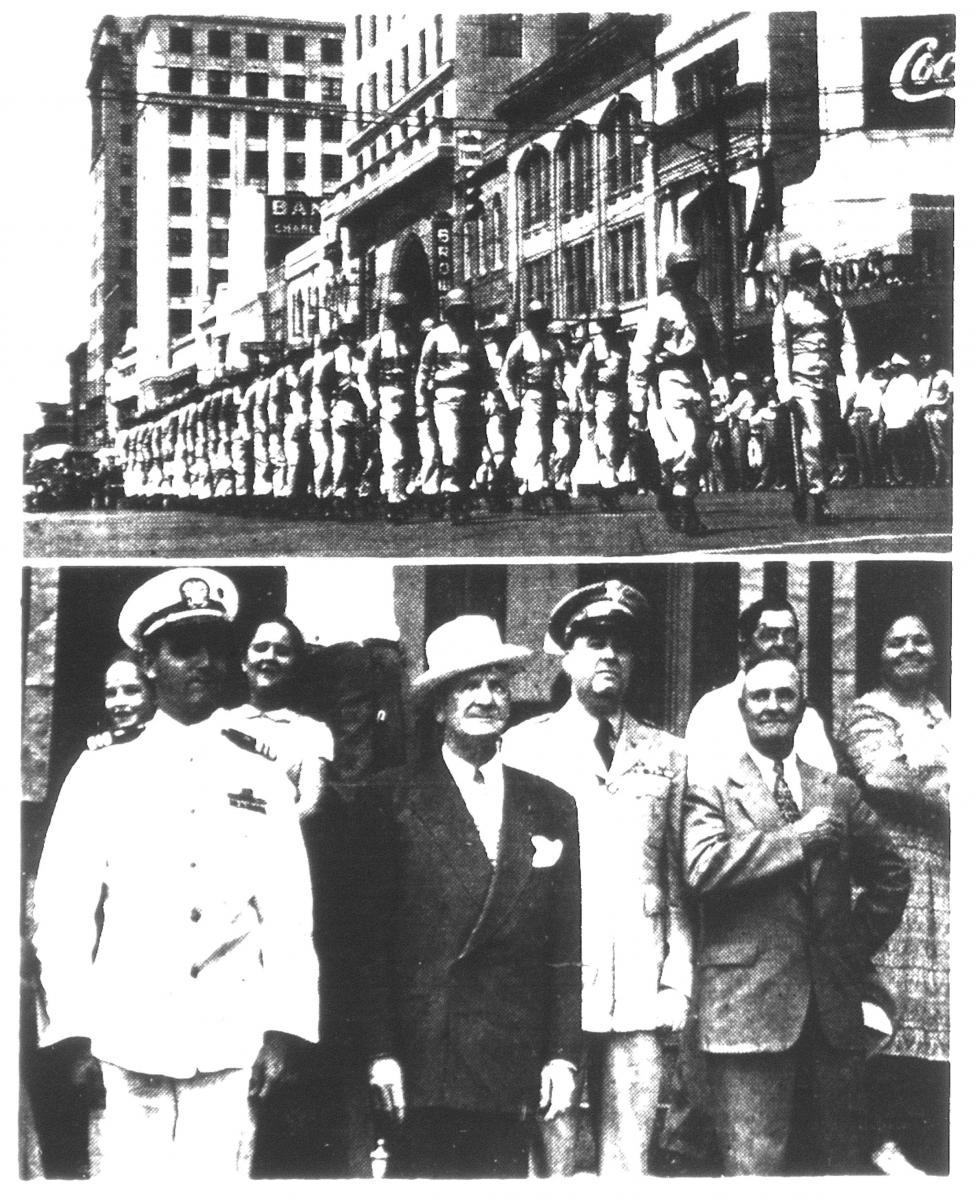 For more information about Mecklenburg Independence Day celebrations, see: https://www.cmstory.org/exhibits/mecklenburg-declaration-independence/mecklenburg-declaration-independence
Picture of July  parade from the July 5, 1950 Charlotte Observer.