(Already read Part II? Jump ahead to Part III.)
NOTE: This post is part two in a four-part series that explores the Mecklenburg Declaration of Independence. Click here to read part one.
Eleven days after the adoption of the Mecklenburg Declaration, another document emerged called the Mecklenburg Resolves. The Mecklenburg Resolves, created by the Mecklenburg County Committee of Safety on or after May 20, 1775, was adopted by that same committee on May 31, 1775.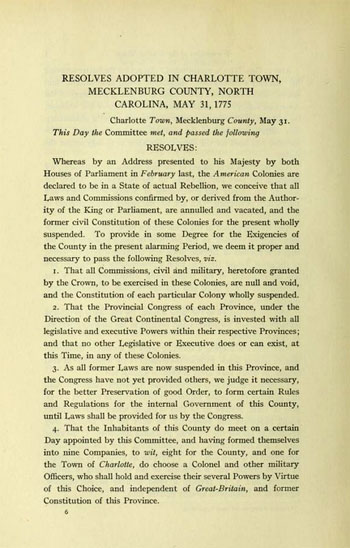 This document adopted a set of radical resolutions that fell short of an actual declaration of independence. The Resolves proclaimed that "all Laws...derived from the Authority of the King or Parliament, are annulled and vacated," and that the Provincial government "under the Great Continental Congress is invested with all legislative and executive Powers...and that no other Legislative or Executive does or can exist, at this Time, in any of these Colonies." The Resolves further suspended the actions of the royal military and civil officials, called for the other colonies to govern themselves through provincial congresses and arrest royal officials who continued their political duties in North Carolina. Following the Mecklenburg Resolves, similar lists were published by other North Carolina counties.
Newspapers published in 1775 document the Resolves. The text of the Resolves was lost after the American Revolution and not rediscovered until 1838.
Enjoying reading about the Mecklenburg Declaration of Independence? Stay posted for installment three of this four-part series which leads up to Meck Dec Day on May 20. Expect the next installment in this series on Friday, May 17.