Thursday, February 27th, 2020
Written by: Charlotte Mecklenburg Library Historian-in-Residence, Dr. Tom Hanchett.
For decades in Charlotte, Attorney J. Charles Jones was a buoyant, familiar community presence on the city's mostly African American west side. History-seekers and city leaders often invited him to speak about his role in Charlotte's 1960 sit-ins. He advocated enthusiastically for civic projects and strove to help neighbors join together for change. His cheery greeting, "Gracious good day!" was usually followed by reference to The Elders, the previous generations who had gotten us here and demanded that we keep moving forward. He wanted you to know the Civil Rights history that his generation had made — so that you would pick up the torch, in turn, and make history yourself.
Charles Jones' role in the Civil Rights movement ran deeper and reached even further than his listeners often realized. Not only did he co-lead Charlotte's successful 1960s sit-ins, the largest such action in the early days of that student movement, he went on to:
Take part in the meetings in 1960s that created the nationally important Student Non-Violent Coordinating Committee
Do jail-time in Rock Hill, South Carolina, on SNCC's behalf in 1961 – a "jail, no bail" protest that foreshadowed Rev. Martin Luther King's later stay in the Birmingham jail.
Join the 1961 Freedom Ride in Mississippi and again go to prison at the legendarily harsh Parchman Farm Penitentiary
Take part in tumultuous SNCC campaigns for voting rights in McComb, Mississippi (1961) and Albany, Georgia (1961 – 62) – where he helped launch the SNCC Freedom Singers with Bernice Johnson Reagon and others.
Initiate a high-profile 1966 march around Washington DC's beltway that is credited with opening housing to all in the DC area.
In the late 1960s he returned to Charlotte, earned a law degree and began a career as Attorney J. Charles Jones, spending half a century representing mostly poor, mostly African American clients.
When Jones passed away at the end of 2019, the national media took notice. This essay pulls together those sources along with other essays and research materials that give a sense of his work and his personality. It starts with the funeral program distributed to mourners at the Chapel on the campus of Johnson C. Smith University on January 4, 2020. Then come links to obituaries and profiles in national and local news media. Finally, there are links to oral histories and photo collections in Charlotte and elsewhere. This list is by no means complete, but rather a starting point for those interested in Jones and his legacy.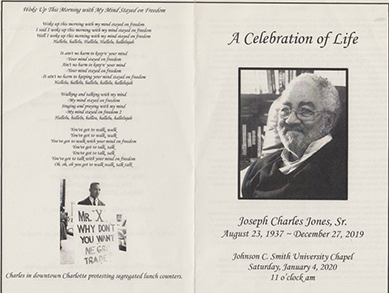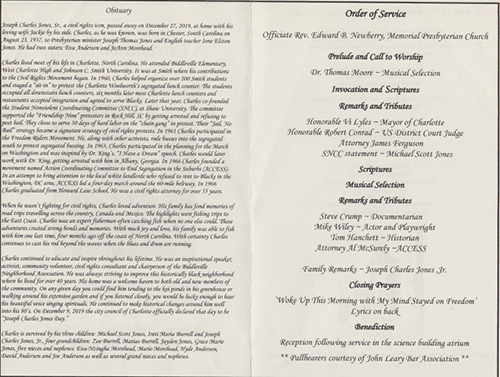 Neil Genzlinger, "J. Charles Jones, Civil Rights Activist, Is Dead at 82," New York Times, January 10, 2020.
Matt Schudel, "J. Charles Jones, Civil Rights Activist Who Led Protest Walk Around Beltway, Dies at 82," Washington Post, January 18, 2020.
"Life Well-Lived: J. Charles Jones -- American Civil Rights Leader Dies at 82," NBC Today Show, January 19, 2020.  
"Johnson C. Smith University Remembers J. Charles Jones," Happenings page, JCSU website.  
"Interview with J. Charles Jones," interviewer Kara Miles, June 16, 1993, Duke University Libraries. 
"Interview with J. Charles Jones," interviewer Debbie Howard, May 18, 2005, Special Collections, J. Murrey Atkins Library, UNC Charlotte.
"Oral Histories with J. Charles Jones and Charles Sherrod," June 23, 2005, Miami University of Ohio.  
Corey Inscoe, "Meet the Man Who Led Charlotte's Lunch-Counter Sit-Ins and Went to Jail with Martin Luther King, Jr.," Charlotte Observer, February 07, 2017.
David Aaron Moore, "Stumbling Across a Hero," Charlotte Magazine, January 2, 2011. 
Frye Gaillard, "Days of Hope and Courage: Reunion Will Celebrate Local Civil Rights Sit-Ins," Creative Loafing, January 29, 2003. 
A video interview with Jones about the Charlotte Sit-ins is part of the permanent exhibition Cotton Fields to Skyscrapers at Levine Museum of the New South in Charlotte.
The Robinson-Spangler Carolina Room of the Charlotte Mecklenburg Library holds photographs and other materials related to Jones. This Facebook post from February 9, 2020, gives a glimpse.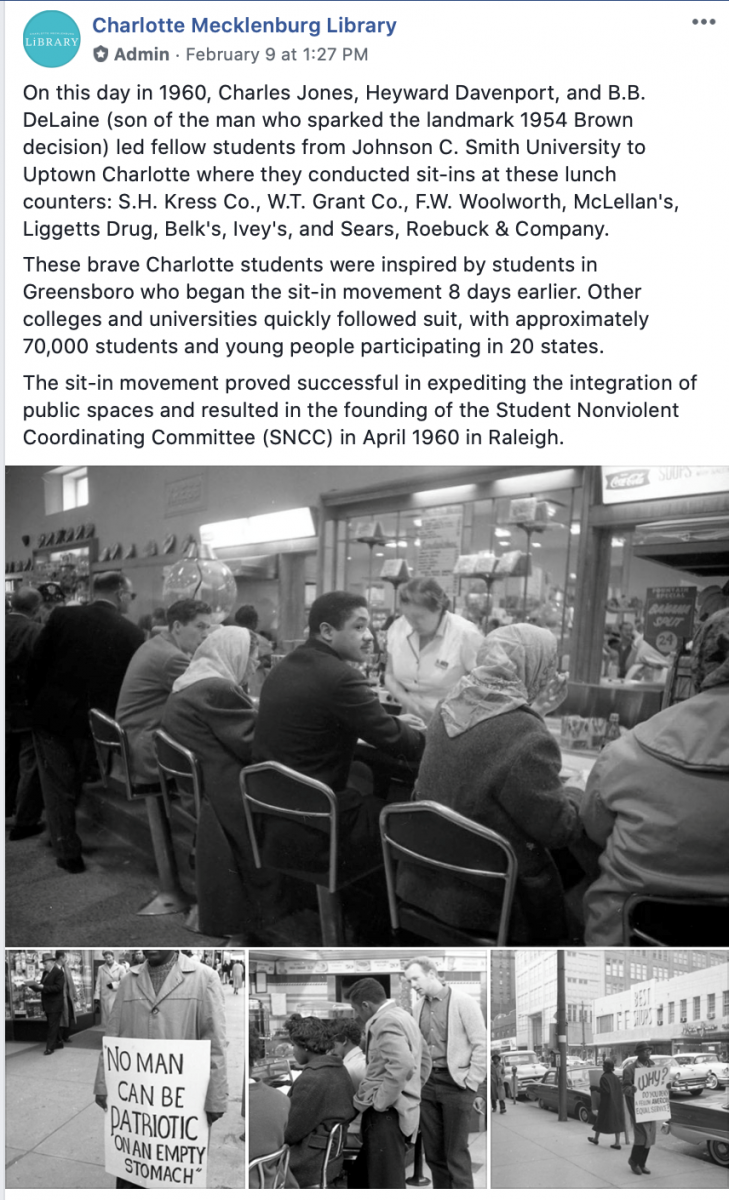 --
The main photo on this blog is by Diedra Laird/The Charlotte Observer (2016).